Young Artists at Work.....
Art Supplies are required for this course.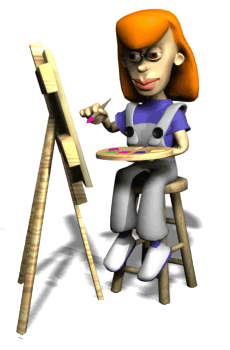 Visual Arts
Please view and bookmark my website under faculty webpage's. All class information will be posted there.
Class Rules: The rules explained in the student handbook will also apply to this class. This room should feel like a learning community and we need to treat each other, the room, and art materials with respect. As artists we will always get messy and we should be prepared to clean up after ourselves.
Be on time

Be ready to work

, THAT MEANS BRING YOUR SUPPLIES TO CLASS

, PENCIL, ERASER

, etc.

Be respectful

Follow rules in handbook and posted on the bulletin board in classroom
Do not disturb other artists at work
Stay in Your Assigned Seat
Discipline Procedures:
1. Verbal Reminder
2. Warning
3. Parent Contact e-mail or telephone
4. Referral to administration
Grading Scale:
93-100 A
85-92 B
77-84 C
70-76 D
0-69 F
Grades: Grades will be given based on the following percentages:
Participation: 50%
Projects: 20%
Sketchbooks: 30%
Final Exam: Worth 25% of final grade
Work Policies:
- Students will be able to make up work missed in class when absent. This work will be completed outside of class. If a student is absent on the due date, the project must be turned in the next class school day or late points will be taken off.
- When projects are late ten points will be taken off the final grade.
- Students may redo projects to improve their grade. By doing this it may improve their letter grade up to ten points.
- The final exam counts 25% of their grade.
Class Calendar: All due dates are on the calendar. They were also sent home for your signature. If you did not receive the information please e-mail me.
Students may lock their supplies in the art room class cabinet and drawers. They should always be prepared with a pencil, eraser and hand held sharpener.

Art Supplies:
8.5 x 11 sketchbooks (Art 1)
8.5 X 11 sketchbooks (Art 2) preferred hardback cover
Artist Pencils (Look for a set at AC Moore or Michaels. You can also order on line from DickBlick.com.)
Rulers
Kneaded erasers, pearl erasers, art gum erasers (a variety of erasers are fun to experiment with for drawing assignments).
Black sharpie markers
*Colored Pencils (Prisma Color Brand is recommended, do not buy student grade). These will be used later in the school year.
*Oil pastels (Art 2)
*Acrylic/water color paints and brushes (Art 2)
*Canvases (will be required for certain projects with Art 2 classes—will let students know when needed)
*These items will be discussed in class.
Have your young artist bring their own art supplies. Taking ownership of their materials and learning how to take care of them is a big part of being a producing artist.
Donations: Are always appreciated!
Basic Class Needs: Acrylic paint any colors, glue sticks, masking tape, sharpies fine and ultra fine, artist grade colored pencils, 12 inch rulers and yardsticks, colored markers, Kleenex, paper towels, stretched canvas (any size), table cleaning supplies.
Thanks for supporting the visual arts!