DUAL ENROLLMENT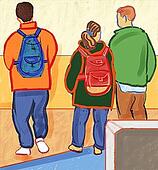 You + Middle College + Forsyth Tech =
Dual Enrollment

What is Dual Enrollment?
Dual Enrollment means that you can complete the requirements for your N.C. high school diploma at Middle College, and you can also be simultaneously enrolled in college level courses (for college credit) at the Forsyth Technical Community College. Our location on the FTCC campus makes dual enrollment an awesome way to graduate with college credit under your belt!
In order to qualify for dual enrollment, you must
Take

the Accuplacer entrance test in Math and English. This test is required for anyone who wishes to take Forsyth Technical College classes

The Accuplacer test is offered at The Testing Center in the Allman Building, Room 133

The Middle College counselor will give you a Registration Card so you can take the placement test

Walk-In Testing is offered Monday - Thursday 8:00 am - 5:30 pm

1st and 3rd Saturdays 8:00 am - 12 noon

Share the test results with your Middle College counselor (test scores are generated immediately)

Talk to the counselor about your Pathway to determine which courses you may take
Registration for Summer and Fall semesters takes place during March-April

Registration for Spring Semester takes place during October-November

Remember: deadlines for registration in college courses are hard and fast! Speak to your counselor early!
For more information contact
Barbara Ashe,Guidance Counselor